The Quilters' Guild of Arlington meets on the second Tuesday of each month at:
Bob Duncan Community Center in Vandergriff Park
2800 South Center Street, Arlington, TX 76014
Workshops begin at 9 am and are held at:
Church of Jesus Christ of Latter-day Saints
2010 S. Carrier Parkway
Grand Prairie, TX 75051
---
May 12 – DIANE HARRIS – Make Extraordinary Scrap Quilts
Diane is a quilter who loves everything about the process and enjoys sharing it with others. She has been sewing for almost 50 years and quilting for three decades and can't imagine ever running out of ideas. Her lecture will help you discover ways to pull your scraps together, find strategies for using your stash and even what does not work. You may never make an ordinary quilt again!
Stash Bandit » Quilting Shenanigans
---
June 9 – RONALD McDONALD CHALLENGE, NANCY'S CANCER CHALLENGE, & POTLUCK
Come and vote on your favorite quilts entered in the Ronald McDonald Challenge. Ribbons will be awarded to winners in each category. Also, vote on your favorite miniature in Nancy's Cancer Challenge. There will also be a potluck dinner and an update on the Guild's participation in community service.
---
July 14 – M. J. KINMAN – Divas & Drama Queens: Colored Gemstones as Design Inspiration
When people ask MJ what she does, she tells them she make the biggest diamonds in the world. But instead of working with the hardest substances on earth, she works with the softest….cloth. The idea to create giant gem portraits emerged 20 years ago and has grown into a passion that has enriched her life. Her lecture will feature her diamond quilts and how she selects gems that qualify as "divas and drama queens," and what they teach us about how to add sparkle to any art quilt. She will also talk about about the techniques she uses to create and assemble her exquisite quilts.
July 15 – WORKSHOP – Bite-size Gems – Create a Small Faceted Quilt
Using MJ's design and paper piecing techniques, students will create their own singularly beautiful work of faceted light. After choosing from one of several pre-selected images based on their skill level, students will learn how to code each piece for color, location, and adjacency; position template pieces onto hand-painted fabric to achieve the desired light effects; and ultimately create their own unique study in faceted color. Students will leave the class with a small top that can later be hand- or machine-quilted at home.
---
August 11 – TERRY MOSHER – Men in Quilting/English Paper Piecing
Terry will present a trunk show of his quilts and speak about the history of men in quilting.
---
September 8 – LEO RANSOM – Silhouettes/Art Quilts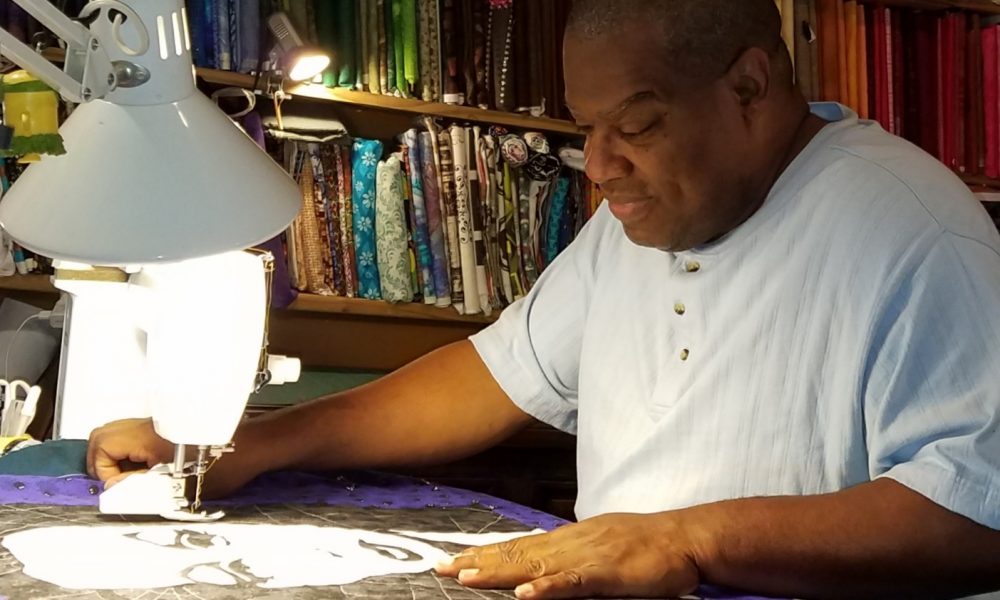 Leo took Home Ec in high school, found himself to be a natural with a sewing machine, and learned to piece quilts. In college, he couldn't afford fabric, so he didn't quilt again until 1998, when he made a quilt to auction at his family reunion. He started watching episodes of Simply Quilts with Alex Anderson to learn more, but became bored with traditional quilting. He attended a guild workshop that taught portraiture quilting, took a couple more classes, and the rest is history. He is now a Master Art Quilter and teaches at quilt shops around the Metroplex and surrounding areas. His lecture will include a trunk show of some of his award-winning portraiture quilts. You might have seen his work in our 2019 Festival of Quilts!
Follow Leo on Facebook and Pinterest!
September 9 – WORKSHOP – Silhouettes
In the Silhouettes Workshop, students will learn Leo's technique to create a  silhouette portrait, choosing from 30 different patterns, including people, animals, flowers, and sea creatures.
---
October 13 – REBECCA BRYAN – Modern Triangle Quilts
Rebecca Bryan is known for creating colorful and geometric quilts. As a fourth generation quilter, Rebecca grew up in a family of makers. Her mother taught her everything she knew about sewing and helped her make her first official quilt for her first apartment. Rebecca has been quilting passionately ever since. A quilt designer, blogger, and author, she currently lives in St. Louis, Missouri, with her husband, four children, and one dog. Her lecture and trunk show will feature how you can use ideas from graphic design in your quilts. You'll leave the trunk show with fresh ideas to apply to your own quilts! Be sure to check out her website and social media. She posts weekly tutorials on YouTube!
October 14 – WORKSHOP 
Fort Worth Modern Quilt Guild and Trinity Valley Quilters' Guild are both hosting workshops with Rebecca Bryan, and are inviting our members to register for her workshop with either of their guilds. Go to either of their websites to register
FWMQG (Workshop is October 17)
Trinity Valley Quilters' Guild
---
November 10 – MARY CALLOWAY – Kooky, Quirky, Crazy, Quilts, Plus a Few Unusual Collectibles!
Learn about quirky quilt making from a 25+ year quilter! Mary has a collection of beautiful, traditional quilts, but her real passion is for the strange and slightly odd quilts which will never be seen in a museum or a quilt show. She will show traditional and vintage quilts with several wild versions of the same design, including some that fall into the category of "What was I thinking?" or "When did she realize her quilt was in trouble?" She will also lead a group participation game of "Quilt Show Judge," giving the Guild members a chance to determine if a quilt receives a Winning Blue Ribbon, or a Thanks for Participating Certificate.
---
December 8 – KIM OLMEDO and DEBBIE PANTON – Trunk Show
There will be a trunk show given by two of the Guild's own members, Kim Olmedo and Debbie Panton. Come and check out their beautiful quilts! There will also be a potluck dinner. Happy Holidays!