The Quilters' Guild of Arlington meets on the second Tuesday of each month at:
Bob Duncan Community Center in Vandergriff Park
2800 South Center Street, Arlington, TX 76014
Workshops are held on the Wednesday following the Tuesday General Meeting from 9:00 am to 4:00 pm.
Our NEW workshop location is Traders Village RV Park Recreation Center, 2602 Mayfield Road, Grand Prairie, TX 75052. The Recreation Center is beside the Convenience Store. Map
---
2021 Programs and Workshops
April 13 – BARBARA EIKMEIER – The Random Block Sampler
Barbara learned to sew in 4-H and made her first quilt while in high school but didn't start quilting seriously until after she married in 1984. She's been teaching quilting since 1990 and her favorite technique is applique. She has written four quilting books, designed fabrics and patterns, and presents programs and workshops to guilds around the country. Her lecture will include a trunk show of sampler quilts made with blocks of many sizes. Popular in the late 1800s, the random size block quilt has it's own set of challenges. She will present examples and show how you can convert your own block collection into a stunning quilt.
April 14 – WORKSHOP – Random Block Sampler – Students are invited to bring a set of blocks of different sizes to make into a stunning sampler quilt. In the first half of  this 6-hour workshop, Barbara will teach how to make a variety of units with the Magic Triangle Ruler. The second half will be spent with students designing their own one-of-a-kind quilts using their assortment of blocks and the techniques learned in the first half of the workshop.
---
May 11 – PAULA BARNES
Paula has nearly 20 years of teaching experience in Dallas and Houston quilt shops, and enjoys numerous distinctions and guild affiliations throughout the state of Texas.
Paula designs beautiful reproduction quilts, incorporating today's simplified quiltmaking tools and techniques.
---
June 8 – Ronald McDonald Challenge and Potluck (tentatively planned)
---
July 13 – MJ KINMAN – Diamond Divas and Drama Queens – Colored Gemstones as Design Inspiration
When people ask MJ what she does, she tells them she make the biggest diamonds in the world. But instead of working with the hardest substances on earth, she works with the softest…cloth. The idea to create giant gem portraits emerged 20 years ago and has grown into a passion that has enriched her life. Her lecture will feature her diamond quilts and how she selects gems that qualify as "divas and drama queens," and what they teach us about how to add sparkle to any art quilt. She will also talk about about the techniques she uses to create and assemble her exquisite quilts.
July 14 – WORKSHOP – Bite-Size Gem Quilts: Creating a Small Faceted Quilt
Skill Level: Confident Beginner to Advanced
Subject: Pattern-Making using Freezer Paper Piecing Techniques
Using the design and piecing techniques MJ relies on to create the diamond portraits, students will create their own singularly beautiful work of faceted light. After choosing from one of several pre-selected images based on their skill level, students will learn how to code each piece for color, location, and adjacency; position template pieces onto hand-painted fabric to achieve the desired light effects; and ultimately create their own unique study in faceted color. Students will leave the class with a small top that can later be hand- or machine-quilted at home.
---
August 10 – Martha Lindberg – Trunk Show – Welcome to my Neighborhood
---
September 14 – Annette Plogg
Annette Plog began sewing early. In 1997, she joined a quilting group with a focus on making antique quilts from reproduction fabrics. Annette loves photography, gardening, running, antiquing, and watching her grandkids. She lives in Texas with her husband, Jim.
---
October 12 – REBECCA BRYAN – Modern Triangle Quilts
Rebecca Bryan is known for creating colorful and geometric quilts. As a fourth generation quilter, Rebecca grew up in a family of makers. Her mother taught her everything she knew about sewing and helped her make her first official quilt for her first apartment. Rebecca has been quilting passionately ever since. A quilt designer, blogger, and author, she currently lives in St. Louis, Missouri, with her husband, four children, and one dog. Her lecture and trunk show will feature how you can use ideas from graphic design in your quilts. You'll leave the trunk show with fresh ideas to apply to your own quilts! Be sure to check out her website and social media. She posts weekly tutorials on YouTube!
(October 13 – WORKSHOP (Sharing with TVQG and FWMQG)
---
November 9 – Sharon Holiday
---
December 14 – Woolies Trunk Show, Drawing for 2021 Donation Quilt, 2022 Donation Quilt Reveal
---
2022 PROGRAMS
June 14 – CHRISTINA CAMELI – Machine Quilting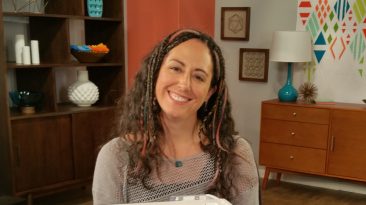 er
Christina began sewing as a child, and fell in love with quilting in 2003. Since then, she has authored four quilting books, traveled the country teaching, filmed multiple online classes, and designed quilt patterns and fabric.
June 15 – WORKSHOP
---